Robert William Miller was born on Monday 27th January 1879 at South Queensferry, West Lothian, Scotland. He was the son of Robert Johnston Miller and Christina (Fraser). Like is father R. W. Miller went to sea in 1893 as a cabin boy on sailing ships. During 1895, he sailed around Cape Horn and before 1900 he had acquired his Master Mariner's Ticket.

In 1901 Miller came to Australia and obtained a job with Huddart-Parker Limited as a Second Mate. On 8th February 1910 he married Annie May Kieran at St Marys Cathedral in Sydney.

In 1908 Miller left Huddart-Parker and started a marine business venture as a lighterman, transporting goods by loading and unloading ships not at a wharf. To do this he purchased a punt and a second-hand tug. It appears that Robert W. Miller traded under the name R.W. Miller and Company from early 1912.

One of Miller's first contracts was to pick up overburden and spoil from the sinking of the Balmain Colliery shaft and dump it at sea. Miller saw the opportunity to sell this material and he ended up getting sixpence a ton from a local council and other contractors for use as road bases and building foundations. Following this close association on Wednesday 15th January 1913 Robert W. Miller was given the contract for coal distribution from Sydney Harbour Colliery Limited (Balmain mine). So begin a long association with coal.

Miller built a fleet of lighters that were used to transport blue metal, sand and coal around Sydney Harbour. This introduction into coal transport opened a prospect for him to enter the larger coal shipping transport. During 1917 Miller purchased a vessel, the Audrey D in the name of his wife, Annie May Miller. The ship was used to carry coal from Newcastle to Sydney. This was a tremendous success and in mid-1918 R.W. Miller acquired a second vessel, the Douglas Mawson This was sold the next year and in August 1919 the Meeinderry was purchased from Huddart-Parker Shipping Company. A fourth ship, the Herga was purchased in early 1921.

In 1921 R. W. Miller owned 10 punts, 4 ships, 2 hulks and 3 tugs. On Thursday 22 February 1923 Ayrfield Colliery in the Hunter Valley (later to become Ayrfield No. 1) was purchased by Robert W. Miller. R.W. Miller and Company was incorporated in July 1923 and from Thursday 19 July 1923 its offices were at 38A Pitt Street, Sydney. From late 1927 or early 1928 its Head Office was located at 19 Bridge Street, Sydney where it remained for almost 50 years.

In 1924 the SS William Macarthur (named after Miller's step-father) built by J. Lewis and Sons of Aberdeen, Scotland arrived in Australia became R.W. Miller's first carrier for his Newcastle to Melbourne coal run. In early 1924 Miller took over operations of the closed Heddon Greta Colliery. This was legalised on 24 September 1924 and the mine was renamed Ayrfield No 2 Colliery.

In mid 1924 Miller had discussed with Christian Franks of the Millfield Mining Company about purchasing the Millfield Mining Company's new mine and coal leases. By October 1924 Miller owned this mine but it appears that it was placed in mothballs soon after till about 1929. In the end, Miller owned over 20 coal mines.

During the mid 1920s Miller's output of coal meant that additional ships were needed to transport the coal to Sydney. In 1925 SS Christina Fraser (named after Miller's mother) was built by J. Duthie Torry Steamship Company of Aberdeen, Scotland.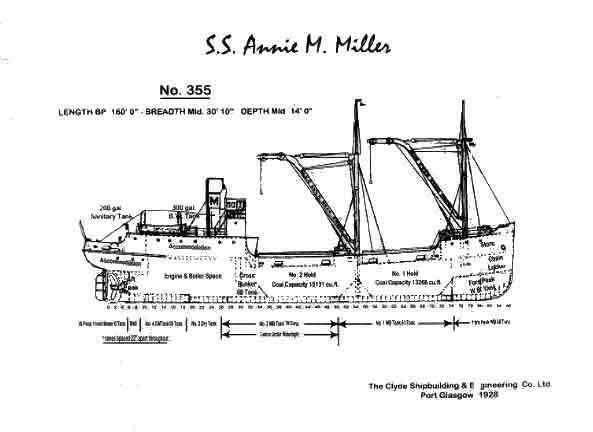 The plans of the Annie M Miller
Courtesy of Les Caterson
Click to enlarge

Soon another new ship was needed and the SS Annie M. Miller was built for R. W. Miller and Co in 1928 by the Clyde Shipbuilding and Engineering Company Limited in Port Glasgow, Scotland. As was typical for one of R. W. Miller's ships, the new vessel was named after one of his relatives, in this case, his wife. It was a typical coastal collier, displacing 707 tons with a length of 48 metres and beam of 9 metres (about the same size as the SS Tuggerah but as a wreck it appears to be considerably smaller). The new vessel was powered by a 96 rhp triple expansion steam engine (also built by Clyde), with the steam coming from a single boiler. Although built for use as a collier, she was primarily used to carry blue metal from Shellharbour (Bass Point) to Sydney. In fact, the Miller only carried coal as a cargo three times in her short career, one of which was to be her last voyage.

Only six months after being launched and less than three months after taking up service, the SS Annie M. Miller was to sink in tragic circumstances.

When the Annie M. Miller entered service, Captain Herbert Pilling, a 45 year veteran, became her master. On 8 February 1929 at 5.30 am, the Annie M. Miller left Sydney for Bulli to take on a load of coal. She arrived just after 9 am and began loading coal. Problems arose and twice she took on a dangerous list, solved only by moving water in and out of the ballast tanks. Finally, all the coal was loaded but the engineers refused to take her to sea until the hatches and tarpaulins were in place.

The Captain ordered the hatches to be put on but not the tarpaulins. The Miller left the wharf some time after 2 pm in a moderate choppy sea. Twenty minutes after departure, the list to port returned. A check showed no water in the bilges. By all accounts, the seas were not too bad and of no real influence on the final outcome.

Passing Botany Bay, the list was now so bad that two feet of water was lapping number two hatch. Despite this, Captain Pilling continued towards Sydney rather than take shelter in the Bay. The list got worse until the port railing was underwater. Captain Pilling ordered the lifeboats to be prepared, but due to the list, only the port boat could be launched.

At 7.35 pm as she approached the Macquarie Lighthouse near the outer South Head of Sydney Harbour, a rocket flare was fired. It was seen by the lighthouse keeper but not by the nearby signal station which had the only telephone (you would think that in 1929 the lighthouse would have a telephone or, at the very least, a radio). After a 20 minute delay while the lighthouse keeper summoned help, the pilot steamer Captain Cook, left Watsons Bay to assist the Annie M. Miller.

The launching of the lifeboat did not succeed as a large wave swept it away. Able Seaman Kenneth McRae leapt in after it and somehow managed to clamber aboard. He rowed back to where he last saw the Annie M. Miller, but she had sank. He immediately found one crew member and after some time, a total of six crew were in the lifeboat. The cook, George Wheatley, later stated that he was worried about sharks while in the water. It is just as well that he was not aware that a fatal shark attack had occurred at Bondi Beach that afternoon. Bondi Beach is only a few kilometres from where the ship sank.

The Captain Cook rescued the men in the lifeboat about 30 minutes after the sinking. No trace of the missing six crew members, including Captain Pilling, was ever found.

On 5 March 1929, a Marine Court of Inquiry found that the Annie M. Miller left Bulli with a decided list to port, caused by improper loading and that she was overloaded by 30 tons. The Inquiry also found that the Captain failed to place the tarpaulins on the hatches. The Inquiry stated that while it could not definitely come to a conclusion as to the direct cause of the sinking, its opinion was that the improper loading and the failure to place the tarpaulins led to the ship's loss.
Survivors
Dead

Otto Petersen - Able Seaman - Waverley
Kenneth McRae - Able Seaman - Paddington
William Bennett - Donkeyman - Newtown
George Woodbury - Fireman - Balmain
George Wheatley - Cook - Erskinville
J. R. Tracey - Second Engineer - Randwick

Captain H. S. Billings - Five Dock
H. W. Andrews - First Engineer - Five Dock
R. Rowera - Mate - Annandale
John Wilson - Able Seaman - City
Andrew Anderson - Able Seaman - Annandale
P. T. Brennan - Fireman - Rozelle
After the loss of the Annie M. Miller, R. W. Miller had a new ship built to replace the Miller, the SS Birchgrove Park. R. W. Miller went on to own Miller's Brewery on Parramatta Road (now the orange Miller's Storage building), famous hotels such as Miller's Brighton and Coogee and the family now owns the huge Miller's Storage company. R. W. Miller died on Monday 10 February 1958 at Lewisham.

The wreck of the SS Annie M. Miller was found by Rick Latimer and Peter Harper of South Pacific Divers' Club (so I believe) in 1977. However, I also understand that fishers knew of the location a long time before this discovery. I was told that Rick and Peter were out looking for the wreck when they approached some men fishing and asked them if they knew of any wrecks nearby and were told that they were anchored right over the wreck of the Annie Miller!

References:
Scuba Action (date unknown), article by John Riley
The Vanished Fleet of the Sydney Coastline by Max Gleeson (highly recommended)
Sydney Morning Herald, 9 February 1929 pg 1, 17, 18;11 February pg 12, 14; 12 February, pg 12
Scuba Divers Guide - Southern NSW Coast by Tom Byron, pg 70 to 73
Michael McFadyen - http://www.michaelmcfadyenscuba.info