My Photos 1 2 3

The last real shipwreck to occur in the Sydney area was the loss of the SS Birchgrove Park on 2 August 1956. The Birchgrove Park was lost off the far northern beaches of the City in a terrible storm while on a regular trip from Newcastle to Sydney.

Robert William Miller was born on Monday 27th January 1879 at South Queensferry, West Lothian, Scotland. He was the son of Robert Johnston Miller and Christina (Fraser). Like is father R. W. Miller went to sea in 1893 as a cabin boy on sailing ships. During 1895, he sailed around Cape Horn and before 1900 he had acquired his Master Mariner's Ticket.

In 1901 Miller came to Australia and obtained a job with Huddart-Parker Limited as a Second Mate. On 8th February 1910 he married Annie May Kieran at St Marys Cathedral in Sydney.

In 1908 Miller left Huddart-Parker and started a marine business venture as a lighterman, transporting goods by loading and unloading ships not at a wharf. To do this he purchaed a punt and a second-hand tug. It appears that Robert W. Miller traded under the name R.W. Miller and Company from early 1912.

One of Miller's first contracts was to pick up overburden and spoil from the sinking of the Balmain Colliery shaft and dump it at sea. Miller saw the opportunity to sell this material and he ended up getting sixpence a ton from a local council and other contractors for use as road bases and building foundations. Following this close association on Wednesday 15th January 1913 Robert W. Miller was given the contract for coal distribution from Sydney Harbour Colliery Limited (Balmain mine). So begin a long association with coal.

Miller built a fleet of lighters that were used to transport blue metal, sand and coal around Sydney Harbour. This introduction into coal transport opened a prospect for him to enter the larger coal shipping transport. During 1917 Miller purchased a vessel, the Audrey D in the name of his wife, Annie May Miller. The ship was used to carry coal from Newcastle to Sydney. This was a tremendous success and in mid-1918 R.W. Miller acquired a second vessel, the Douglas Mawson This was sold the next year and in August 1919 the Meeinderry was purchased from Huddart-Parker Shipping Company. A fourth ship, the Herga was purchased in early 1921.

In 1921 R. W. Miller owned 10 punts, 4 ships, 2 hulks and 3 tugs. On Thursday 22 February 1923 Ayrfield Colliery in the Hunter Valley (later to become Ayrfield No. 1) was purchased by Robert W. Miller. R.W. Miller and Company was incorporated in July 1923 and from Thursday 19 July 1923 its offices were at 38A Pitt Street, Sydney. From late 1927 or early 1928 its Head Office was located at 19 Bridge Street, Sydney where it remained for almost 50 years.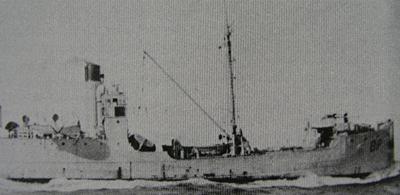 HMAS Birchgrove Park during the War

In 1924 the SS William Macarthur (named after Miller's step-father) built by J. Lewis and Sons of Aberdeen, Scotland arrived in Australia became R.W. Miller's first carrier for his Newcastle to Melbourne coal run. In early 1924 Miller took over operations of the closed Heddon Greta Colliery. This was legalised on 24 September 1924 and the mine was renamed Ayrfield No 2 Colliery.

In mid 1924 Miller had discussed with Christian Franks of the Millfield Mining Company about purchasing the Millfield Mining Company's new mine and coal leases. By October 1924 Miller owned this mine but it appears that it was placed in mothballs soon after till about 1929. In the end, Miller owned over 20 coal mines.

During the mid 1920s Miller's output of coal meant that additional ships were needed to transport the coal to Sydney. In 1925 SS Christina Fraser (named after Miller's mother) was built by J. Duthie Torry Steamship Company of Aberdeen, Scotland. In 1928 the SS Annie M. Miller was purchased but on 8 February 1929, less than three months after its acquisition, she sank off Sydney. This meant that R.W. Miller and Co. needed another collier. In mid-1930 when its finances were in a better state, an order was placed for a new vessel. The Birchgrove Park was a collier built by J. Lewis and Sons of Aberdeen, Scotland and launched in November 1930. The Birchgrove Park (Lloyd's Register 157592) was a collier of 640 tons and was 47 metres long and 10 metres wide. Constructed of steel and powered by a coal powered boiler and a triple expansion cylinder steam engine (producing 93 rhp - exactly the same as the Annie M. Miller's engine - it may have been identical in design) turning a single screw, the Birchgrove Park represents the end of an era, that of coal transport to Sydney by ship.

Leaving the UK on 5 November 1930, the Birchgrove Park arrived in Sydney on 18 January 1931. Within two weeks she entered service, first working from Bulli but then Newcastle.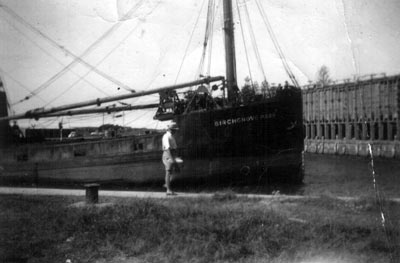 Ray Briggs in front of the SS Birchgrove Park
at an unknown location
Photo provided by Geoff Cook

On 9 May 1941, the ship was requisitioned by the Royal Australian Navy for conversion into an auxiliary minesweeper. HMAS Birchgrove Park (FY15 - carried BP on bow) was commissioned into the Navy on 22 August 1941. Fitted with two Oerlikon heavy machine guns and a large 12 pounder gun, Birchgrove Park was then recommissioned in 1942 as a stores carrier. In August 1943 the Birchgrove Park arrived in Port Moresby and for the next two years she served various New Guinea ports.

On 22 September 1945 HMAS Birchgrove Park was in Ambon (now Indonesia) with HMAS Glenlg, HMAS Westralia and others.

In April 1945 the Birchgrove Park was paid off but on 25 July 1945 she was recommissioned as a tender. In December of the same year she was finally paid off and returned to R.W. Miller and Co. in February 1946. She went back to her regular Newcastle/Sydney run, although from all reports, by early 1956 her condition had deteriorated to such an extent where she was soon expected to be scrapped. However, the Sydney Morning Herald reported on 4 August 1956 that the Miller had been surveyed in July 1956 and issued with a certificate of seaworthiness.

Although the last Sixty Miler did not disappear from service till mid-1993, in reality they were doomed from the late 1950s or early 1960s. Instead of having power stations in the middle of the city (eg Pyrmont, Balmain, White Bay and Bunnerong), a decision was made to replace these old dinosaurs by constructing the new super-stations on the coalfields themselves. This did away with a reason for the small colliers to ply their loads the short distance from Wollongong and Newcastle to Sydney. The other reason for transporting coal to Sydney was to replenish the bunkers of international coal-powered vessels. These had, of course, by now mostly switched over to diesel or oil powered engines.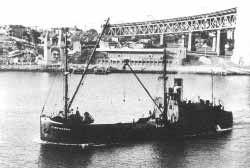 The SS Birchgrove Park heading west
just after passing under the
Sydney Harbour Bridge

At 1.45 pm on 1 August 1956, the Birchgrove Park left Newcastle with a slight list to port. The weather was fine and sea conditions were calm. No change was predicted for more than 12 hours. However, just like now, the weather bureau was wrong and a half hour after leaving Newcastle a southerly buster hit.

Waves started coming over the deck and the holds quickly took in water as the tarpaulins had worked loose. Although they were put back in place, an hour later they were again loose and more water was in the hold. The list increased and despite attention, water continued to enter the holds.

The Birchgrove Park was now off Broken Bay and the winds were over 40 mph, every wave crashing over the deck. Still Captain Laurence Lynch did not seek the safety of Broken Bay. It was now midnight and water was entering the ship through a corroded steampipe and the vents on the forecastle. Soon after, the Leading Fireman, Erl Olsen, reported that the water could soon flood the boiler fires, disabling the ship.

Captain Lynch ordered the crew on deck and attempted to prepare the lifeboats for launching. Due to the list, this was not successful. In addition, the ship's calls for help were never received as the aerial had not been erected before leaving Newcastle. The Birchgrove Park was still steaming on and at 2.35 am Captain Lynch asked Olsen to return to the engine room to shut down the engines. Despite the risk, Olsen successfully completed the task as Captain Lynch got an SOS away to the South Head Signal Station by lamp.

At 2.45 am, the Birchgrove Park turned over and sank. The crew went into the water, clinging to the debris which came from the ship. A lifeboat was found and three crew clambered aboard. These were Erl Olsen, Charles Camilleri and Neil Stuart. Waves were crashing over the boat and Olsen and the only oar went into the ocean. Olsen managed to get back into the boat but the oar was lost.

The collier William Macarthur heading north was informed of the loss and the Captain Cook set out at 3.30 am. Unfortunately, they started searching off Long Reef, almost 10 kilometres to the south of where the Birchgrove Park had gone down.

Early in the morning the RAN sent three vessels, and later, a submarine, to assist in the search. Two Neptune aircraft from the RAAF were also sent to help in the search.

At 6.00 am, Charles Camilleri died of exhaustion in the lifeboat and five hours later the boat was washed ashore at Lobster Bay with Olsen and Stuart still aboard. They sheltered in a shack. One of the planes sighted a number of objects in the water and dropped flares to locate each for the searching ships. HMAS Wagga responded to one flare and found Kenneth Fabian alive but in very poor condition. Two crew ended up diving in to save and assist getting him out of the water. They also found a body. About the same time, HMS Thorough, a Royal Navy submarine, rescued Joseph Butler, the last to be found alive. Five bodies were found by the Police launch Nemesis. The SS Teralba, also a Miller ship, found the body of Osborn Marsh. The last body recovered on the day of the sinking was found by a Palm Beach resident, Mr C. Gower, who was out searching in his launch Caroline H. Note that there was a report in a newspaper that a final body was found on Manly Beach at 9 am on 4 August 1956. However, this was incorrect. It appears that there may have been something sighted in the water but it was not a body. Ten crew died in the sinking, two bodies never to be found. Not found were the bodies of the Donkeyman, Alexander Robb and the First Engineer, William Gordon Sim.

Butler and Fabian ended up in Sydney Hospital while Olsen and Stuart ended up in Manly Hospital. Butler and Fabian were still in hospital on 4 August 1956 while the other two were released on 3 August 1956.

On 3 August 1956, two fishermen found the other lifeboat half submerged off Kilcare Beach on the Central Coast. They towed it to shore.
Survivors
Dead

Erl Olsen - Leading Fireman - Matraville
Kenneth Mervyn Fabian - Able Seaman - Randwick
Neil (or Ned?) McLeod Stuart - Able Seaman - Manly
Joseph Butler - Second Engineer - Randwick

Captain Laurence Lynch - Wollonstonecraft
David Waltanen - First Mate - Balmain
Charles Camilleri - Cook - Potts Point
Alexander Robb - Donkeyman - Birmingham Gardens (Newcastle)
Charalambos Dimitrious - Able Seaman - Plumpton
Clive Roberts - Fireman - Heathcote
Thomas Claude Kenny - Second Mate - Petersham
Osborn Charles Marsh - Able Seaman - Woollahra
Brian Boyle - Steward - Blakehurst
William Gordon Sim - First Engineer - Harbord
R. W. Miller went on to own Miller's Brewery on Parramatta Road (now the orange Miller's Storage building), famous hotels such as Miller's Brighton and Coogee and the family now owns the huge Miller's Storage company. R. W. Miller died on Monday 10 February 1958 at Lewisham.