USAT Liberty
Built circa WWI this cargo ship was equipped with guns for WWII, torpedoed by the Japanese off Lombok; despite attempts to tow the ship to N Bali it was taking on too much water so was semi-beached at Tulamben. Over the years anything reusable was removed. In 1963, with the earth tremors from the last eruption of Mount Agung, the wreck slid further down the slope where it still lies (as close to the beach as it can be and still be underwater!).
The Liberty lies approximately 30m offshore almost parallel to the beach on the sand slope and is suitable for all levels of qualification and experience. The wreck lies in depths from 9-30m; the shallowest part of the wreck, where it touches the sand slope, is at 5-10m. Depth along the middle of the wreck is 16-20m. The lower edge of the wreck, ie: furthest down the slope, is 20-28m (at high tide). The wreck is 120m long, it's pretty broken up (ie: no penetration possible) but you can still see the guns, toilets, boilers, anchor chain, etc. It is a lovely dive site, possibly the world's easiest wreck dive.
You can also snorkel on the wreck - the highest point of the stern is about 4m below the surface.
Visibility is usually 18-25m, lower when it has been raining. There is rarely a current present, at most it will be mild. During the 3 days before the full moon, there are usually waves. The air temp is 25-32degrees, the water 26-28degrees.
Borrowed from http://www.aquamarinediving.com/
This magnificent 120 meter long shipwreck is the remains of a US World War II freighter, torpedoed on January 11,1942 at 4:15 a.m. by a Japanese submarine while crossing the Lombok Strait carrying material (rubber and railway parts) from Australia to the Philippines.
Two US destroyers hitched up to the ship and tried to tow it to the port of Singaraja. The damage was immense, she was taking to much water and her crew ran the vessel up onto the beach of Tulamben 70km away from safe harbour.
For 21 years she stayed there, local people secured all items of any value, even parts of the deck. In 1963 the Liberty was pushed to her present location by the fatal eruption of the volcano Gunung Agung. During this process the hull broke into two peace's. Now she is laying only 30 meter from the beach on a sandy slope 90° on her side parallel to the shore. The deck side faces the ocean.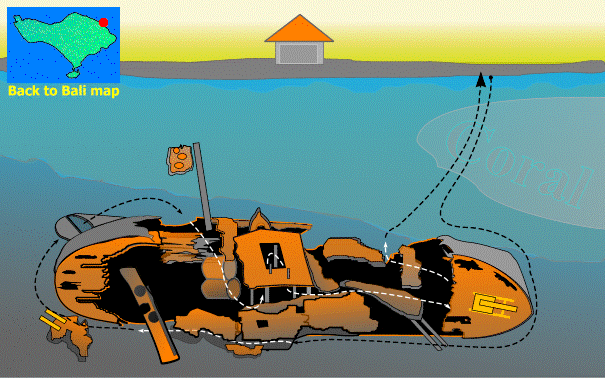 Borrowed from http://www.gekodive.com/