The Tasman Hauler
The Tasman Hauler was built by Evans Deakin and Co. Ltd of Brisbane for BP (Kwinana) Pty Ltd. Launched in November 1959 as a fire fighting tug, it was originally named the BP Cockburn and was registered in Fremantle. The BP Cockburn was 419 tons and measured 42.4 metres long overall and 10.0 metres wide. Powered by an eight cylinder diesel motor of 1,500bhp connected to the prop by flexible couplings (identical to the Henry Bolte), in 1975 the BP Cockburn was sold to P & O Australia Ltd and renamed the Cockburn.
Leased to Kwinana Towage Services, the Cockburn changed hands again in 1983 when it acquired the name Tasman Hauler and was purchased by Lease Industrial Finance and Phipson Nominee Pty Ltd. The vessel was now registered in Sydney and leased by Charter Craft and Marine Services Pty Ltd of Eden. In 1986 this company purchased the Tasman Hauler which meant that as of about 1987, Charter Craft and Marine Services owned both the Henry Bolte and Tasman Hauler.
On 6 July 1988, the Hauler was stranded on rocks at Twofold Bay (presumably after dragging or breaking its mooring). She was refloated and was apparently declared a total loss. The Hauler must have had a fire around this time as the lower forward compartments appear to have been burnt at some time.
The Tasman Hauler and Henry Bolte were purchased by the then Eden dive operator, Gary Becus, for $1 each. I am not sure if this was before or after the stranding mentioned in the above paragraph. On 1 October 1988, he sank the Tasman Hauler and around the same time the Henry Bolte just south of Red Point off Ben Boyd National Park to start artificial reefs and to provide alternate wreck dives for his divers. Located only a few hundred metres apart, it is less than a 10 minute run south from Eden across Twofold Bay to either tug.
Once out of Eden Harbour, head out across Twofold Bay towards the southern headland (where you can see Boyd Tower) and then down the coast a few kilometres till you reach 37° 06' 39"S 149° 57' 45"E.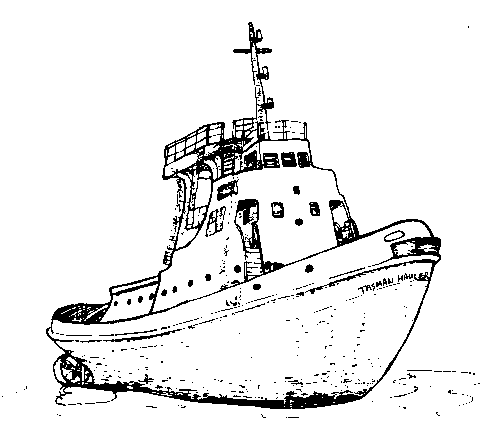 Courtesy (Stolen) of Michael McFadyen