US Virgin Islands, St Thomas
Extract from Underwater Safaris web site

Just a short ride away from the hustle and bustle of Charlotte Amalie's shopping district, the wreck of the Navy Barges is a wonderful treat for any diver, beginner or advanced. The wreck consists of two sunken Navy barges which came to rest on this spot thanks to the post World War II U.D.T. (underwater demolition team) training efforts. The two barges are situated parallel to each other just out of sight of each other so the journey from barge #1 to barge #2 affords divers the chance to spot large Southern Stingrays and turtles on the eel grass and sand flats between.

The walls are encrusted with a myriad of intricate corals and marine creatures and the corridors provide shelter for numerous fish and eels. At certain times, large nurse sharks can be observed in one of the holds. Because of its shallow depth,
maximum of 45 feet, divers can explore this wreck site at a leisurely pace.
It is also one of our favourite night dive spots.
More from xtremespots.com
The Virgin Islands of the United States, or the U.S. Virgin Islands lie in the Caribbean Sea, east of Puerto Rico. This group of islands consist of the main islands of Saint Thomas, which is home to the capital city of the U.S. Virgin Islands, Saint John, Saint Croix, Water Island and other surrounding minor islands. The climate here is classified as tropical savanna climate, mostly affected by moderate trade winds.
St. Thomas is home to a wide collection of spectacular wreck dive sites. With an amazing array of coral reefs, a variety of fish species and warm waters, this tropical destination attracts divers and snorkelers from all over the world. Just a short boat ride from Charlotte Amalie harbor, the Navy Barges is a wonderful wreck site for every diving enthusiast.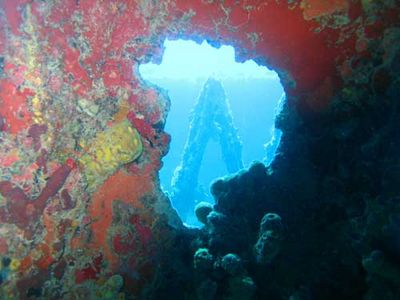 After World War II, the navy sunk the two barges, which lie parallel to each other in 12.2 m/40 ft depth of water. The wreck site is the ideal habitat for a selection of colourful corals and tropical fish, including parrot fish, big angelfish, nurse sharks, octopus, stingray, turtles and feather dusters. Keep in mind that it is also a great night dive spot. The average water temperature varies from 75°F/24°C in winter to 80°F/27°C in summer and the visibility ranges from 10 m/32.8 ft to 30 m/98.4 ft.
The Navy Barges welcomes both the beginner and experienced diver. Finally, you should book your dive in advance, as access to the dive site is only by boat. Note: be careful of boat traffic.