The HMNZS Canterbury (F421)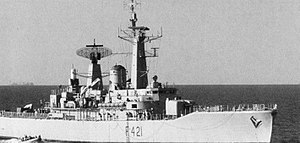 HMNZS Canterbury (F421) was one of two broad beam Leander-class frigates operated by the Royal New Zealand Navy (RNZN) from 1971 to 2005. She was built in Scotland and launched in 1970. Commissioned in 1971, Canterbury saw operational service in much of Australasia and other regions like the Persian Gulf. She undertook operations such as supporting UN sanctions against Iraq and peace-keeping in East Timor. With her sister ship HMNZS Waikato she relieved the Royal Navy frigate HMS Amazon in the Indian Ocean during the Falklands War.

Early in HMNZS Canterbury's career she relieved the frigate HMNZS Otago at Moruroa during anti-nuclear protests, in 1973, F 421 being the most effectively insulated frigate, from nuclear fallout, with the Improved Broad Beam Leander steam plant, for e.g., being remote controlled and capable of unmanned operation and therefore the ship a more effective sealed citadel for operations in areas of nuclear explosions. Canterbury was decommissioned in 2005. In 2007 she was scuttled in the Bay of Islands to provide a dive wreck. She lies in 38 metres (125 ft) of water.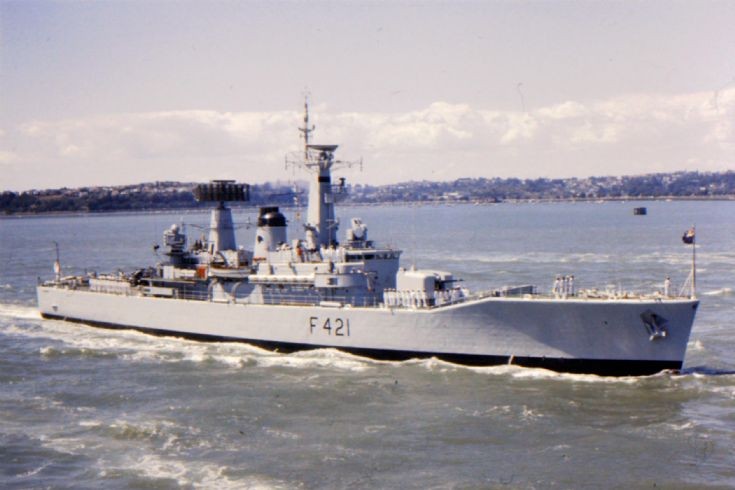 In the early 2000s, it was becoming increasingly clear that the ship's technical systems were getting old, and mechanical faults were multiplying. In October 2003, a fire broke out in the auxiliary switchboard while the ship was off the Chatham Islands. The ship was saved through quick action from 2 ratings, one of who received the New Zealand Order of Merit for his actions in the smoke-filled switchboard room, but it was considered that major damage or even ship loss had been only barely avoided. The repairs cost NZ$1 million, and the incident, confirmed the ships life had already been dangerously overextended due to delays on orders for replacement ships with newer multi-role vessels and possibly the forlorn hope that the 8 year Type 23 RN frigate Grafton, might have been approved as a replacement, it was instead sold to Chile.

After being decommissioned in 2005, there was talk of converting her into a floating hostel. However, during a 2004 inspection, corrosion of the ship's structure had been found to be too serious for her to stay afloat in the long term without very costly maintenance. Enthusiasts at the Bay of Islands Canterbury Charitable Trust proposed the idea of scuttling her as a dive wreck at Deep Water Cove in the Bay of Islands.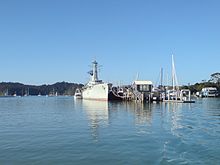 The New Zealand Navy ships Tui and Waikato are already lying on the ground off the Tutukaka Coast, while the Greenpeace ship Rainbow Warrior was scuttled off Matauri Bay. It is hoped that the wreck, in addition to becoming an artificial reef enhancing biodiversity, will also provide additional options for the regions diving tourism.[25] It is considered that removed scrap metal and equipment (such as ship's lockers or the propeller) will bring up to NZ$400,000 to offset the NZ$650,000 costs of cleaning up and scuttling her, while the worth to the local economy could be in the millions. The ship itself had been sold to the trust for a symbolic NZ$1. Her 4.5-inch Mk V/Mk 6 gun turret was removed to become part of the exhibits at a planned new navy museum in Auckland.

It was expected that the ship would be able to be sunk late 2007, after potential contaminants and scrap materials had been stripped out, and the Department of Conservation had withdrawn its objections at the end of 2006. The intention was originally to sink her on Saturday 20 October 2007 – two days before its 36th commissioning anniversary. After some delays, on 3 November 2007 at 14:30 hrs she was eventually sunk by imported plastic explosives placed at 12 locations around the hull (totalling only 14 kg (31 lb) in weight). The sinking was prepared by Norman Greenall, once Chief Petty Officer (shipwright) on Canterbury, who has undertaken the scuttling of other New Zealand Navy ships (like HMNZS Wellington). Greenall has a somewhat colourful reputation in the navy as the person who has "sunk more of our navy ships than the enemy did in the whole of the Second World War" – however, the actual sinking of Canterbury was performed by UK company Cadre One. Canterbury now lies on the seabed in Deep Water Cove. The frigate offered good diving, especially with the ship being mostly intact (contrary to many similar dive wrecks which have broken up) and especially when other places such as Matauri Bay were unavailable due to weather conditions.

(Extract from Wikipedia)