The Henry Bolte
The Henry Bolte was launched in January 1966 from the NSW Government State Dockyard at Newcastle for the Victorian Department of Ports and Harbours and named after an (infamous) Victorian Premier. Displacing 383 tons and measuring 40.7 by 10.2 metres, the Henry Bolte was a fire fighting tug used primarily in Westernport. It was powered by an eight cylinder diesel motor of 1,500bhp connected to the prop by flexible couplings.
In about 1985/1986 the Bolte was sold to Westernport Tug Services. It is reported (the Australian Government Environment Web Site) that about April 1986 (Lloyds Register shows that it did not change hands till about 1987/88) it was sold again to Charter Craft and Marine Services Pty Ltd of Eden. However, the Henry Bolte's survey expired in January 1986 and the 1988-89 Lloyd's Register of Ships records it as being laid up.
In 1988 the Henry Bolte and the Tasman Hauler were purchased by the then Eden dive operator, Gary Becus, for $1 each. In that year he sank the tugs (the Hauler on 1 October and the Bolte eight weeks earlier - about 1 August 1988) just south of Red Point off Ben Boyd National Park to start artificial reefs and to provide alternate wreck dives for his divers. Located only a few hundred metres apart, it is only a 10 minute run south from Eden across Twofold Bay to either tug. It is now located at 37° 06' 47"S 149° 57' 43"E (note that all my GPS Readings are using AUS66 - if you use any other datum, you will need to convert the reading). The wreck is normally moored in two spots, bow and stern.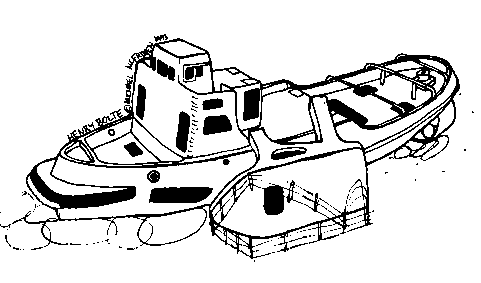 From the webpage of Michael McFadyen