HMAS Adelaide (II)
HMAS Adelaide (II) was a long-range escort frigate with roles including area air defence, anti-submarine warfare, surveillance, reconnaissance, and interdiction. The Ship could simultaneously counter threats from the air, surface and sub-surface.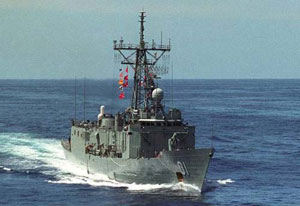 Built in the United States, Adelaide (II) was commissioned on 15 November 1980 and was the first of six Adelaide Class guided-missile frigates to be delivered to the Royal Australian Navy. Adelaide (II) was the second ship in the Royal Australian Navy to carry this name. The first was a light cruiser that served from 1922 to 1945.
Along with her five sister ships, HMAS Canberra (II), HMAS Sydney, HMAS Darwin, HMAS Melbourne and HMAS Newcastle, Adelaide< (II) was powered by gas turbines for it's main propulsion. Guided-missile frigates could be underway from a cold start in less than 30 minutes. In addition, two forward mounted auxiliary propulsion units provided a secondary means of propulsion and excellent manoeuvrability in confined waters.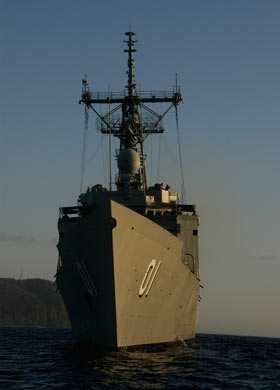 Adelaide (II) was equipped with a number of sensors that included long range radars for air and surface surveillance, electronic warfare and optical surveillance systems, a medium range sonar and a command and control system, that incorporated target data received by data link from other ships and aircraft.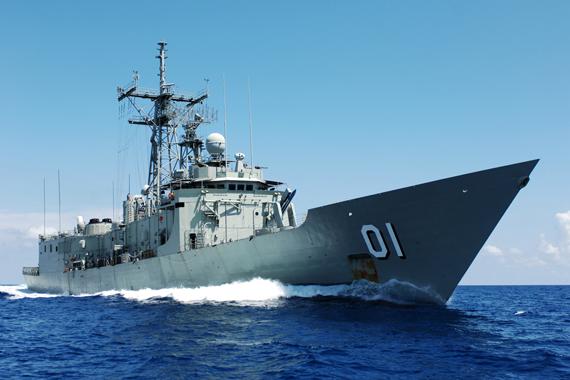 The principal weapons installed in Adelaide (II) were the Standard medium-range anti-aircraft missile and the Harpoon anti-shipping missile. Both missiles were launched from the Mk 13 launcher on the forecastle. A 76mm gun to counter both air and surface threats was fitted forward of the funnel. A 20mm Phalanx close-in-weapons-system, Nulka decoy and chaff systems were fitted for anti-missile defence. Adelaide (II) had a capacity for two S-70B-2 Seahawk helicopters and was fitted with two sets of Mk 32 triple torpedo tubes to provide a counter to submarines.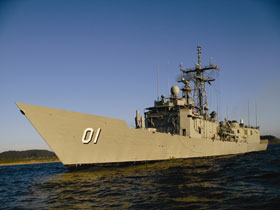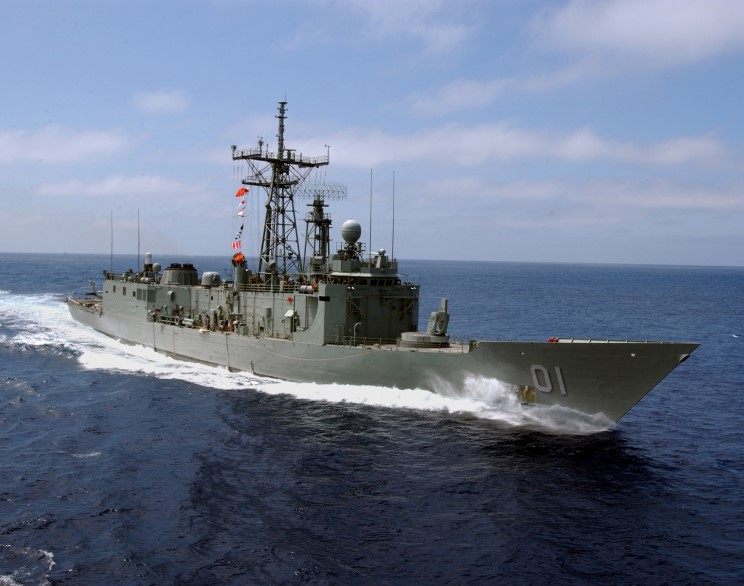 Adelaide (II) was the first guided-missile frigate to be home-ported in Western Australia.
The ship participated in the 1990/91 Gulf War, peacekeeping operations in East Timor in 1999 and was deployed to the Arabian Gulf as part of the International Coalition against Terrorism in 2001 and 2004.
Statistics
Pennant
FFG 01
Type
Surface Combatant
Classification
Guided Missile Frigate (FFG)
Class
Adelaide Class
Launched
21 June 1978
Commissioned
15 November 1980
Decommissioned
19 January 2008
Displacement

4200 tonnes

Length

138.1 metres

Beam

14.3 metres

Armament

76mm Rapid Fire Gun
Harpoon Anti-ship Missiles
SM2 Surface-to-Air Missiles
Evolved Sea Sparrow Surface-to-Air Missiles
Mk 41 Vertical Launch System
Mk 13 Missile Launcher
Phalanx Close-in Weapons System
Nulka, Pirate, Seagnat and Lescut decoy systems
2 Mk 32 triple torpedo tubes
Mk 46 torpedoes

Aircraft

Up to two Seahawk helicopters

Main Machinery

Two General Electric LM2500 gas turbines driving a single controllable pitch propeller
one test

Speed
30 knots

or 55.56 km/h

Company
221
Battle Honours

Pacific 1941-43
East Indies 1942
East Timor 1999
Persian Gulf 2001-02
All extracts from the Royal Australian Navy Web Site